Bohemian living room diorama in 1/6 scale
I started on making room box dioramas to fit in my glass display cabinets and I'm loving it! This bohemian living room diorama in 1/6 scale is inspired by a peacock colour scheme. As you can see, it's far from finished, but the basics are done now. It definitely needs more plants and art, as well as shelves and furniture for art supplies!
I'm making it for my boho chic Obitsu girl, Willow and her Momoko Midnight Crossing friend who loves grunge.
---
---
The butterfly chair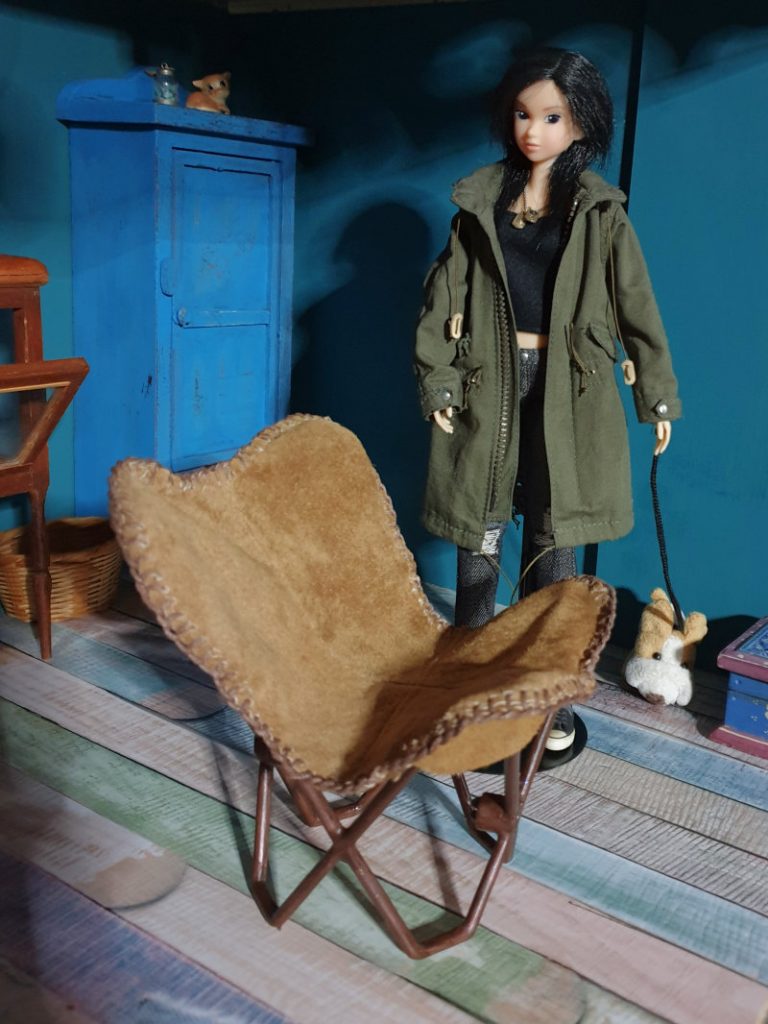 I made a 'leather' butterfly chair, using a Barbie butterfly chair as a base. I painted the green plastic frame in copper tones with metallic looking acrylic paint. The faux suede cover was created by drafting a pattern from the original cover and finishing the seams with brown cord in an overhand stitch.
---
Self-sustaining eco systems
Look at these cute little self-sustaining ecosystems! I simply adore how beautiful plant terrariums look and wanted to have them in Willow's room, to add some green to the scene.
The moss/plant scenery is all made with fake plants, but the one with the marimo algae is real.
---
Shabby chalk painted cupboard
I painted this super cute cupboard in a worn vintage style, by using an acrylic chalk paint. I blended it to this stunning turquoise colour! After letting it dry, I lightly sanded the surface to create the shabby effect.
---
DIY Popsicle stick window frame
I made the wooden window frame for the bohemian living room diorama in 1/6 scale by hand with popsicle sticks and bamboo satay skewers. I cut the flat and pointy ends off the bamboo skewers and glued them together to make the inside frame. The 'glass' is a piece of doll box plastic that has been glued to this frame.
Then I used jumbo popsicle sticks (or tongue depressors) to make the vertical frame and coffee stirrer sticks to make the flat top frame.

It's easy to cut the edges in a 45 degree angle: to make sure your angles fit, use a geo triangle for measurement. After cutting, I stacked all frame parts on top of each other and sanded the edges all at once to make them smooth before gluing them together.
Cool side note: the window can actually open!
---
Willow is an Obitsu Gretel27 ball jointed doll ( BJD ). You can learn more about her, by visiting her profile page: