---
Stories of Kadrimoth – Earth
---
These dolls are from our personal ball jointed doll collection and are not for sale.
Kazuo's arrival to earth happened in may 2007. The photo story below is a throwback to when we (my mother and I) first started collecting ball jointed dolls. We sure did have fun, although it didn't always make perfect sense haha!
Nariko and Takahiro decided to take a break from all the inter-dimensional craziness back home and take a short vacation in a cabin in the woods. After they took their luggage out of the car, Nariko started acting like a diva…
Nariko got up under heavy protest, providing someone else would carry the 'heavy' sleeping bag.
When they turned the corner, a pleasant surprise was awaiting them: a swing! They all ran towards it (except Nariko).
But their quiet vacation was about to be interrupted quite soon. Other-worldly visitors were just about to appear. Tiny Nixie had hidden in Takahiro's backpack and out of the blue appeared… prince Bran!
Pantsu intermezzo…
They were all very surprised!
But they were about to be even more surprised! They saw something in the forest…
Someone was practicing a martial art in a meadow.
Ryu ran out there, towards the stranger. But he was passed by Angel and Nixie (dogs can run a lot faster…)
They slowed down, so not to interrupt the stranger.
Bran did not say he knew the stranger. To him, it was obvious that Rosier (the demon of Love)'s son wasn't here by accident. The others just sat and watched him, admiring the mysterious boy's skill.
When Kazuo was done, they started introducing themselves.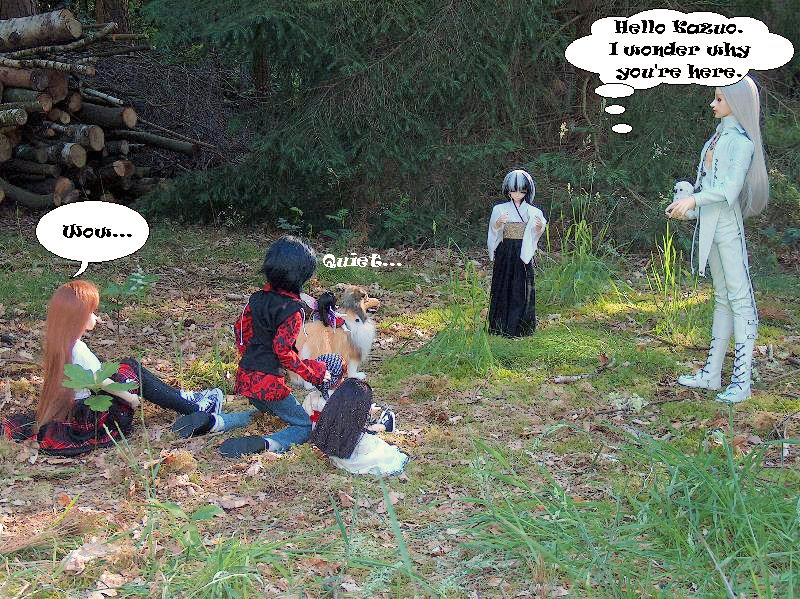 Kazuo changed into something more casual and Bran and Nixie took him for a walk. Bran asked him why he came and Kazuo explained. He was on the run from a girl who was very crossed with him and he didn't know where to go. He sensed Bran's presence here and since he trusts his old friend, he decided to appear.
They decided to tell the 'earthlings' about Kazuo's background, but not about the reason he came here (it was kind of embarrassing)!
---
Nariko is an Angelregion Fair Diana, Takahiro is an Angelregion Fair Kai, Ryu and Kaida are Dollzone Ani, Bran is a Dollzone Wing, Kazuo is a Dollzone Megi, Nixie is a Fairygarden tiny Lii ball jointed doll ( BJD ). You can learn more about them, by visiting their profile pages:
Read and see more by following these links:
Stories of Kadrimoth
Draequehaless family
Demons of the Seven Deadly Sins
Humans