Realistic fashion style BJD's – Popovy Sisters
---
A spotlight post about Popovy Sisters BJD, detailing what makes these artist-created dolls unique and special.
In this blog series, I will share information about some well-known and lesser-known ball jointed doll artists who work in resin in around 16″ (1/4 or 40-45cm) size, so theoretically these dolls would look good as a companion to the Popovy Sisters BJD's I own. In following posts I will also talk about similar realistic fashion style BJD's in materials such as porcelain and similar dolls in alternative sizes.
After falling hard for the style of ball jointed dolls that the Popovy sisters started making back in 2012, someday owning a Little Owl became a high priority on my list. In many ways, she was a grail doll for me and I feel so blessed that I was able to order her in 2015. And last year (2018) I had finally saved up enough to order Landy as well! She arrived with me this year.
Lately, this style of doll is becoming increasingly more popular, especially among Russian artists, and I find myself following ever more artists on Instagram who decide to create their dolls with a similar aesthetic. So many in fact, that I thought that this might also be interesting to share!
---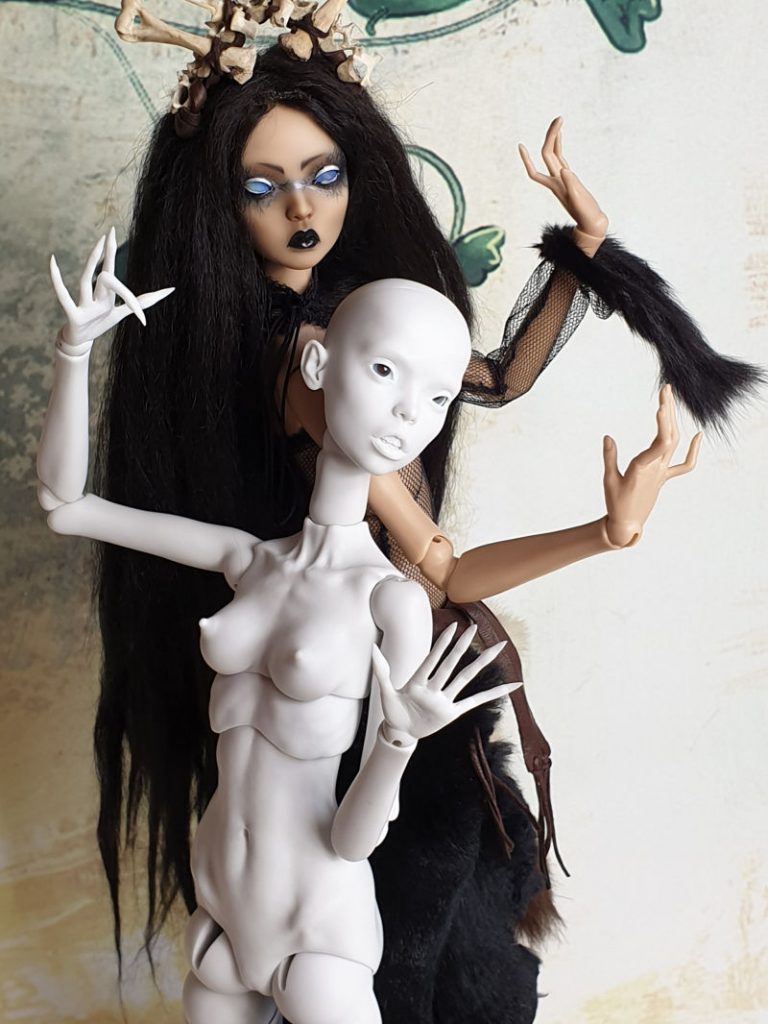 ---
Can share clothes with:
Pedigree Sindy, body types I and II are quite similar, so they can share clothes, but the body type III has a bigger bust size with very pointy nipples, so fitted clothing won't work as well.
Do you know of dolls that can share clothing , wigs or shoes with Popovy Sisters dolls? Leave your comments below!
---
Poseability:
Popovy Sisters dolls are tightly strung and treated with silicone lining in the joints, so they pose beautifully: very elegantly and they are able to hold poses well.
Due to the fact that there is no flat-foot option, the dolls can generally not stand unsupported though.
---
---
Body I / II neck
Body II
Body III / IV
Neck joint
single
double
double
Shoulder joints
single
single
single
Elbow joints
double (peanut)
double (peanut)
double (peanut)
Wrist joints
single
single
single
Finger joints
–
–
–
Torso
single
single
double
Thigh joints
single
double (peanut)
double (peanut)
Leg joints
attached to thigh joint
cup over thigh joint
cup over thigh joint
Knee joints
double (peanut)
double (peanut)
double (peanut)
Ankle joints
single
single
single
Foot joints
–
–
–
Additional joints
–
Wire hands: strung on the doll
Magnetic hands: detachable
Wire hands: strung on the doll
Magnetic hands: detachable
---
Measurements in cm
| | |
| --- | --- |
| Length | 40 |
| Head circumference | 12 |
| Wig size in inches | 4-5 |
| Eye size in millimeters | 8-10 |
| Leg length including foot | 23 |
| Foot length | 4,6 |
| Foot width | 1,6 |
| Arm length including hand | 15,5 |
| Neck circumference | 3,7 |
---
---
The dolls depicted in this blog post are from our personal ball jointed doll collection. You can learn more about them, by visiting their profile pages: